George Bush Photobombs Sports Report at
Rangers Game Gif
So, what is life like nearly a decade once you have finished leading the free world?
We'd say pretty traditional.
Not solely is former President George W. Bush attending Texas Rangers games, he is additionally photobombing sports reporters throughout their live shots!
While Fox Sports Southwest newsperson Emily Jones was delivering a section, Bush was walking behind her.
In the video, you'll be able to see him lean in – nearly over Jones' shoulder –
George Bush Photobombs Sports Report and nonchalantly say "hey" before moving on.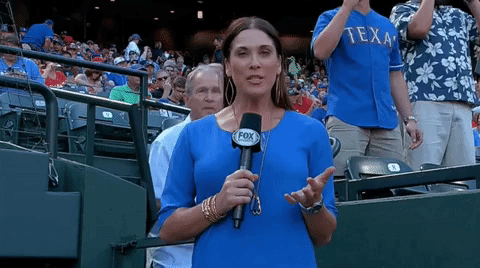 After the infectious agent moment, Jones says she walked over to him and asked, "Did you simply photobomb me?"
His response: "Yep, I positive did!"George Bush Photobombs Sports Report.
But Jones did not seem to mind an excessive amount of.
The newsperson tweeted, "My most favorite photobomb ever," adding a link to the humorous moment.